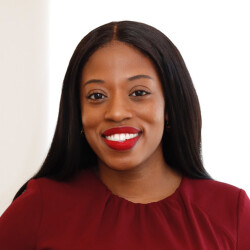 Jennifer L. Boutte
"God is within her; she will not fail." (Ps. 46:5) These are the words that Jennifer allows to guide her footsteps as a woman, a mother, and a leader.
Jennifer is a native of Rochester, NY; where she was raised, educated, and built her career. She is a proud graduate of the Rochester City School District. She holds a B.S. in Organizational Management and M.S. in Strategic Leadership from Roberts Wesleyan College. For almost two decades, Jennifer has served in various nonprofit leadership capacities within community organizations such as Wilson Commencement Park, Quad A for Kids, JCC of Greater Rochester, and CDS Life Transitions.
In June 2021, Jennifer was appointed as the Vice President of Community Engagement at Goodwill of the Finger Lakes, a nonprofit organization with a social enterprise model that takes an innovative approach to creating opportunities for people with barriers to employment while generating revenue to support our community programs and services. At Goodwill, Jennifer oversees Fundraising and Development, Marketing, Public Relations, and the Good Neighbor Program.
Jennifer is an active member of the Rochester community. Amidst bearing the responsibilities that accompany the many hats she wears; nothing brings Jennifer greater joy than being a mother to her 18-year old daughter, Aaliyah, Freshmen at North Carolina Central University.