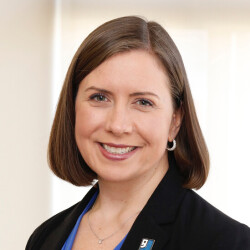 Jennifer Lake
"Great leaders don't set out to be a leader, they set out to make a difference." Having gained leadership experience in several roles across various industries, Jennifer continues to make a difference in every capacity that she serves.
Jennifer serves as President & CEO of Goodwill of the Finger Lakes, a $57M social enterprise generating 85% of its own funding for mission programs and services. GFL employs more than 700 people across their Association for the Blind and Visually Impaired (ABVI), 211/LIFE LINE, Contact Center, Donated Goods Retail, Food Services, Manufacturing, Administration and Mission Programs. Jennifer continues to demonstrate her commitment to "growing people" through the expansion of traditional learning opportunities and the development of resources and skill building for employees and their families.
Jennifer holds a MS in Organizational Learning & Human Resource Development and a BA in Political Science from St. John Fisher College. She completed the Goodwill Industries International Executive Development Program, the Leadership Coaching Certification Program through the University of Rochester Warner School and most recently the Diversity, Equity & Inclusion in the Workplace certificate program through the University of South Florida Muma College of Business.
Jennifer resides in Pittsford, NY with her husband and daughter.