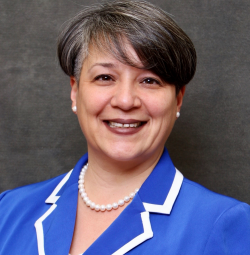 Wanda Cooper
Wanda has over 20 years of experience and an extensive background in the non-profit sector. She has earned several community and academic awards and has served on numerous boards and community committees. Wanda holds a Bachelor's in Community and Human Services from SUNY Empire State College and is currently pursuing her doctorate in Organizational Change and Leadership at the University of Southern California. She is also a proud member of Zeta Phi Beta Sorority, Inc., and is the Youth Advisor to their Amicettes Youth Auxiliary Club. She currently serves as the Chief Operating Officer for the Urban League of Rochester NY.
Wanda is the owner of Cooper ProductionZ LLC, a marketing company that is dedicated to assisting grassroots non-profits with telling their story of impact to enhance their funding opportunities. She has also dedicated her life to empowering women and young girls by sharing her story of how she overcame the perils of domestic violence and has influenced numerous women to pursue better self-care, personal investments, building positive relationships, career paths, and educational goals.
Wanda understands the importance of respecting people, which is of the utmost importance for our society - where families are experiencing significant losses and difficulties. She believes that the best and only approach to serving our community is to treat everyone with respect and focus on partnering with those in need to find the best way to help.